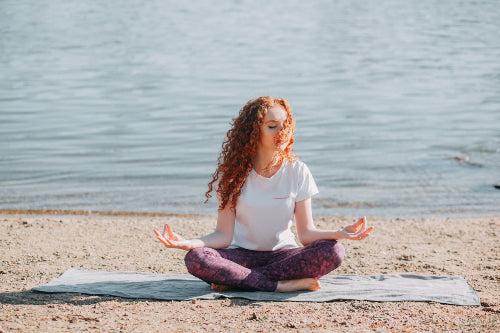 After the success of "slow food" and "slow life", it is time for "slow beauty" to rethink the future of cosmetics. The principle? Consume less and better, adopting more responsible beauty with natural ingredients.
Slow beauty is about using fewer, better products to lessen unnecessary consumption and waste. It is about investing in natural products that have been lovingly crafted using sustainable methods and intelligently sourced ingredients. It is important to take time to enjoy our beauty and skincare regimes – and this is what slow beauty is all about.
Much like slow fashion, its beauty counterpart is devoted to cultivating the longevity of beauty products as an antidote to mass-produced and easily disposed products. The slow beauty movement is, in essence, a contrast to the fast-paced world of the beauty industry that sells us quick fixes, immediate results and invasive options.
KonMari your skincare routine - more calm
We've all heard about the capsule wardrobe – a carefully curated array of high-quality, multi-use pieces that can be worn many ways and will last and last. Let's create a beauty capsule collection of high-quality, multitasking products that enhance our natural beauty over time. Slow beauty means buying less of those highly-specific, single-purpose items and investing in products that can multitask and do it well. Slow beauty is conscious of the impact it is leaving behind.
Long lasting results - no quick fixes
On average normal skin renewal takes about 28 days. As we age and your skin cell renewal slows down. It's never too late to start your daily skincare routine. Quality over quantity is the secret also in skincare. Slow beauty means choosing products that play the long game. Slow beauty is about allowing routines to be the same for long enough that you start to see a positive change in the way you look and feel. It means avoiding quick-fix and instant results products and favoring products that prioritize your well-being long term.
The philosophy of slowing down and being mindful is all about being in the moment and taking time out to indulge - whether you are applying your skincare or then thoughtfully sipping a cup of tea. Slowing down through daily self-care rituals can enhance beauty on the inside and out.
Small-batch production
Today most mass cosmetic products are formulated to last at least 30 months, that is 2.5 years or longer. However, active agents start losing their beneficial properties in just a few months. Slow beauty products are made in small batches in a green chemistry production facility. To amplify the efficacy and maximum nutrient absorption, the active ingredients go through a slow fermentation process. It is like good wine making!
The good news is that making the switch to slow beauty does not mean huge changes - just everyday easy steps. It is important to become more conscious and know the lifecycle of your beauty products - from seed to skin, and beyond.
Slow beauty advocates a careful curation of a handful of products that cover a multitude of needs. It's based on multi-purpose products that save room in your bathroom cabinet (and your wallet). It is about allowing skincare routines to be the same for long enough that you start to see a positive change in the way you look and feel, bringing a sustainable impact on your skin. It is about less but better, in every sense.
Slow beauty by Finnish Circulove
As a slow beauty brand, we at Circulove have a uncompromised focus on high quality, longevity, balance, and multibeneficial products in our offerings. Our capsule collection approach allows scaling to grow organically and producing less waste on both the manufacturing side and consumer side, as well as in the logistics chain in between. Our eco-luxe capsule essentials are made with natural, high quality ingredients and slowly fermented formulations - meaning that our customers are encouraged to buy and use what they actually need.
Circulove skincare routine:
CLEAN | Cleansing Micellar Essence - toner and cleanser together
CALM | Soothing Face & Eye Serum for daily use
DAY | Protecting Face Cream SPF20 - protection and moisture
SMOOTH | Nourishing Face Oil - moisture & care

P.S. Easy to go, wherever you go - no need for extra packages when travelling!
---